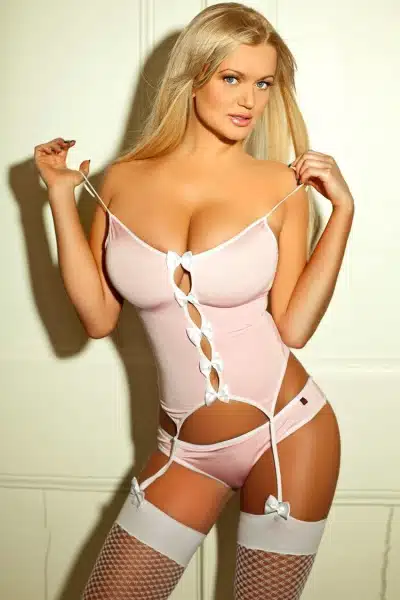 Crystal was a bit of a tomboy growing up. All of that has changed though. While she was used to hooping it up with her brothers, she not only can still hit the hardwood, only this time in much more seductive clothing. You better be careful about any one-on-one action with her, because while you're distracted at how beautiful she is, Crystal will drive right past you. Of course, that just means you get to enjoy a view of her back as well.
About Crystal
Height: 5'9″
Weight: 129 lbs
Measurements: 34DD-23-33
Background: Caucasian
Hobbies: Basketball, volleyball, laughing, getting away from the city and watching the stars come out
"I like a guy I can bond with over an activity. So many dates are dinners and cocktails, which is fine, but there's just something about being active with another person. Gets the body moving and gets the souls pushing closer together."
Favorite Movie / TV Show: Gossip Girls
You Can Blink
It's okay, you can blink. You're not dreaming. When you're on a date with Crystal, she's not going to disappear when you close your eyes. She's also not going to run away at midnight (unless, of course, that's when your date ends). She's a dream come true, and for the time you spend with her, she's your dream.
Spend Time With Your Dream
Of all the hot busty escorts out there in Vegas, Crystal is one of the most carrying and down to earth you'll meet. There isn't a bit of fakeness in her entire body. It's why so many people continue to come back to her. She's charming and warm and the perfect companion for your time in Las Vegas. Whether for an hour or a week, Crystal can be the girl that makes your dreams come true.