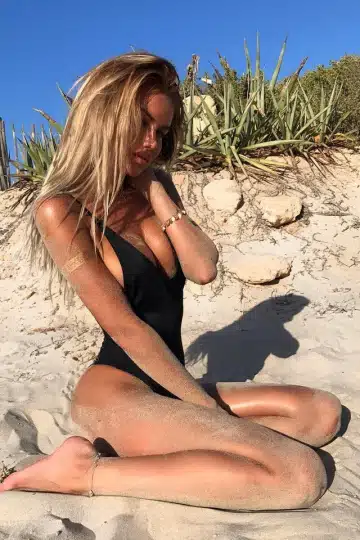 Sophie turns heads. It's just what she does. If the world ever needed everyone to look one direction or the other, all it would need to do is have Sophie stand to the left or the right. Where she goes, people's gaze also goes. She simply has that affect on people. So, when you go on a date with Sophie, don't be surprised if everyone's eyes begin to follow you. They want to see more of her, and they want to be you. Not a bad spot to be in.
About Sophie
Height: 5'7″
Weight: 127 lbs
Measurements: 34DD-22-34
Background: Caucasian
Hobbies: Watching makeup YouTube videos, hiking, spending time with her dog
"The universe brings us all the energy we need. It's understanding how to best use and absorb this energy that makes us different. I want to help you discover how to absorb this energy."
Favorite Movie: Singing in the Rain
Show Stopper
No matter what she wears, no matter where she goes, time stops around Sophie. It's as if she moves in slow motion, because the second or two people see her as she walks past is forever burned into their minds. She's an intoxicant for the senses. And when going out on a date with her, you won't only be around for a few seconds. She's one of the hot busty escorts that will be around for as long as you'd like her to be around.
Begin Your Time Travel
Sophie controls time. She controls how you experience it when with her. When with her you'll want it to last forever. Who knows, maybe sparks fly and your date is the beginning of forever. The best way to find out is to book her. But you'd better act quickly, because there are others out there who want their own forevers with her.