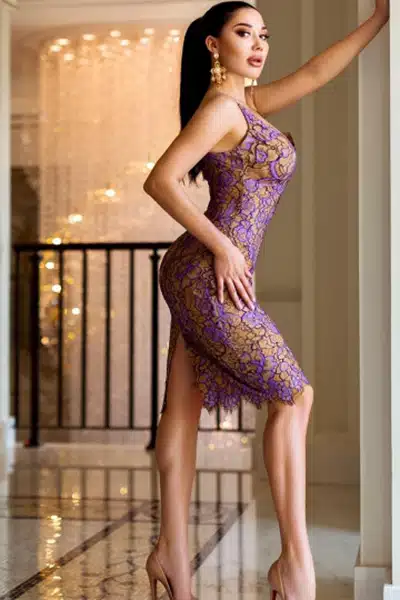 Venus steps into a room and all heads turn in her direction. But it's okay, because she's with you. She's the arm candy you've always dreamed of, and yet she's more than just something sweet to look at. She's fun and exciting. She loves to laugh and she loves to try new things. She's a bombshell and then som. Few elite busty escorts have the same busty personality to go along with it, but Venus has it all. She's the complete package.
About Venus
Height: 5'2″
Weight: 132 lbs
Measurements: 34DD-24-24
Background: Caucasian
Hobbies: Chilling with her cat, kicking back with friends, exploring new restaurants, laughing
"I love to laugh. it's one of my biggest passions. Nothing makes you feel better than a great laugh, even when you're down. If you need a beautiful woman and yet, more importantly, a good laugh, I'm your gal'."
Favorite Movie / TV Show: Naked Gun movies
A True Pleasure By Your Side
There are times with Venus where you'll completely forget you've hired one of the best elite busty escorts in Vegas. You'll walk through the city, enjoy a meal, go hiking, explore a new club, or knock back a beer, and it will all feel so real. But that's because it is. Everything with Venus is real, and that's what makes her special. When you want to forget the problems of the world and just live, Venus is the one you want to live by.
You're Elevated Vegas Experience
Live life like it's supposed to be lived. Have fun and laugh. Enjoy it. Do what you want that makes you and the world around you happy. Sometimes that is hard to do, and other times Venus is there by your side. Give her a call now and let her always be there with you.