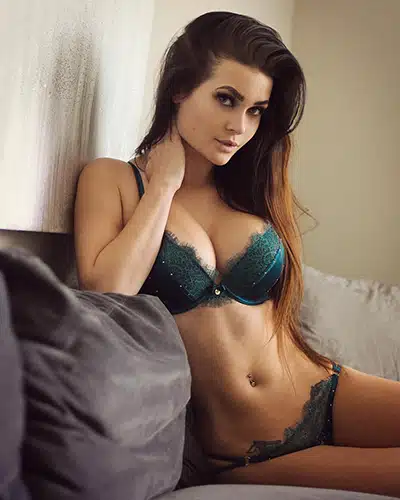 Kristy is a New York gal that was fed up with the cold Northeast winters. She wanted to ditch the snow and gloom, so she set it aside, hopped onto a plane, and came out to Vegas. Aren't you glad she did? Few things can compete with the Vegas summer heat, but Kristy is the exception.
With a flash of her wicked smile, she's able to melt hearts and pull you in. The only question left is what are you waiting for?
About Kristy
Height: 5'7″
Weight: 128 lbs
Measurements: 32D-24-34
Background: Caucasian
Hobbies: Hitting the gym, lounging in any available pool, going for long walks with no specific destination, drawing to help unwind
"I like a guy that isn't afraid to speak his mind and talk about his feelings. I grew up with men who were very closed off, so it's refreshing when a man is will to tell me how he's really feeling. Tell me how you really feel and I'll do the same."
Favorite Movie / TV Show: The Simpsons
Your Own Fantasy Island
You don't need to escape to some far-off island to discover a long-lost fantasy. All you need to do is spend a date with Kristy. There's something mischievous in her eyes and her smile that tells you something else is in the works. It's the kind of look that can make any grown man weak in the knees. But that's exactly how she likes it. She has a secret, and she wants you to discover what it is.
Discover Her Secret
What kind of secret is Kristy holding? Well, you won't discover it just by looking at her pictures. The only way for you to learn what her secret is is to spend time with her. Grab your phone and book a date with one of the hot busty escorts today.