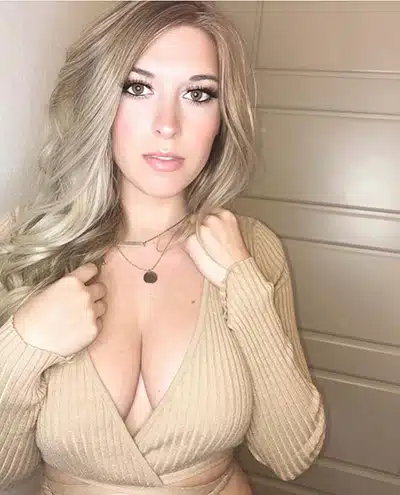 Kimber is a Kentucky country gal. She will always have a big smile on her face, a big heart in her chest, and big busts in her top. Unless she's not wearing a top. But whatever she's wearing, Kimber will always put a smile on your face just because it's impossible to not reflect the bubbly personality she loves to share. With Kimber, it's more than just being one of the top level big busty escorts in Vegas. It's about being one of the friendliest as well.
About Kimber
Height: 5'6″
Weight: 134 lbs
Measurements: 34DD-26-36
Background: Caucasian
Hobbies: Watching stand up specials (or going to comedians when they're in town), falling asleep to Bob Ross, laughing before the punchline.
"I just always have a smile on my face. I tried to look extra seductive with a pouty look in my pictures, but in person it's impossible to hide my smile. I hope my smile can put one on your face as well."
Favorite Movie / TV Show: I Love Lucy
Bubbly Fun
Everything about Kimber is bubbly. Her personality is like blowing into chocolate milk. She's just that bubbly. Her booty is bubbly. And shes got a dual bubble bust going on as well. But don't worry, there won't be any popping bubbles when you're around Kimber. Her bubbles are in it for the long haul.
Get Read to Laugh
Only book Kimber if you want to have the time of your life. Only book her if you want to laugh until your side aches and smile for days just because you're thinking of her smile. Only book her if you want to feel warm and fuzzy inside and only book her if you want to have a beautiful woman by your side. If any of those sound like something you'd want, book her right now.