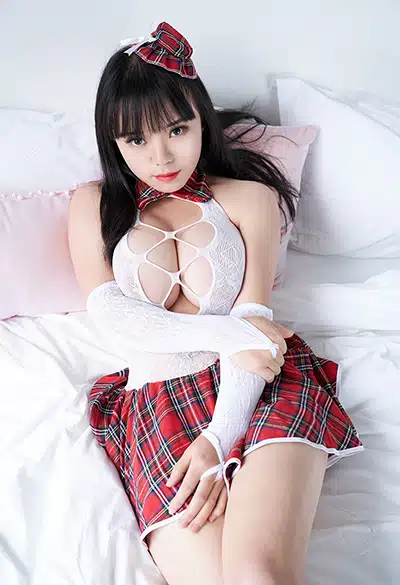 Growing up in Seattle, Hana wanted to escape the fog and rain for the sun and sand of Las Vegas. While she was a hot item in the Pacific Northwest, she's an even more popular girl here in Sin City. Her exotic qualities are breathtaking and her curves will leave you tongue tied. But don't worry, she'll sooth your mind and your soul with a simple touch.
About Hana
Height: 5'1″
Weight: 130
Measurements: 38E-26-36
Background: Chinese
Hobbies: Bing watching her favorite shows, people watching at any mall, video games.
"I'm a pretty easy girl to get along with. I'm really one of the guys, just in the body of a busty Asian. But isn't that really what you're looking for?"
Favorite Movie / TV Show: The Mandalorian
Your Friendly Neighborhood Busty Asian Escort
You want busty? Check. Interested in an Asian woman? Double check. Want a fun time, whatever you do in Vegas? Triple check. Whatever you want, Hana will check it off. And that's what makes Hana such an amazing woman to be with.
There are not a lot of busty Asian escorts wandering the streets of Vegas. There are only a handful, so you're looking for a unicorn. But no worries, Hana is your unicorn.
Busty Is Best
Hana is used to turning heads. What you'll need to grow accustomed to is having a date around your arm that everyone is envious of. Wherever you go, whatever you do, there will be someone who is jealous of you for having one of the best looking, show-stopping women in the area. And as you'll be walking around and spending time with a true unicorn, it will be a time you will forever remember. And all you need to do is book your time with Hana. It's just that easy.