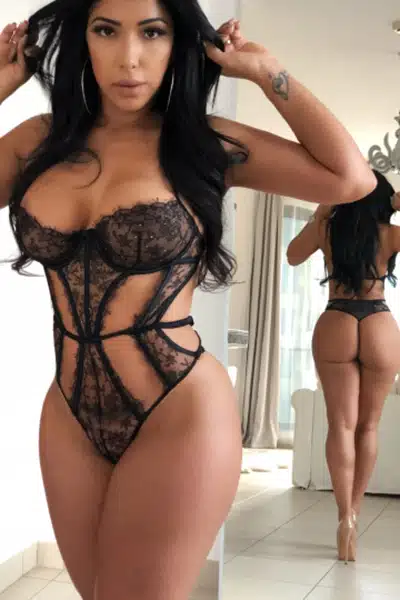 Eve grew up in a small New Mexican town where she was always the bell of the ball. While she loved the attention locals would give her for her Colombian beauty, she wanted to spread her wings from an early age. She knew remaining in the town wasn't for her. That's why she saved up and eventually came out to Las Vegas.
Now in Vegas, you'll find her modeling, doing a bit of acting, and offering incredible dates for those interested in one of the elite Las Vegas busty escorts. She's a small town girl with big city dreams.
About Eve
Height: 5'1″
Weight: 128 lbs
Measurements: 34DD-24-36
Background: Latina (Colombia)
Hobbies: Looking for ways to better herself, modeling, painting her toes, sampling local distilleries to find that new, exotic flavor.
"Men have always tripped over me. That's nice and all, but it doesn't wow me now. You don't have to treat me like I'm some kind of forbidden fruit or endangered animal. Treat me like a friend and we'll go from there. After all, the best relationships start as friendships ;)"
Favorite Movie / TV Show: Project Runway
Some Latina Flavor
Eve knows how to bring the spice to any gathering, even if it's just her showing up. She has all the right curves in all the right places, and whatever angle she's viewed at, she's a perfect 10. Eve doesn't mind talking about her background and her small town roots, but she'd much rather get to know you.
Kick Your Vegas Vacation Up A Notch
Sure, there are plenty of blondes out there, but when you want to add a little fire to your vacation, you need to kick it up a notch, and the best way to do that is by booking a date with the showstopping Eve.