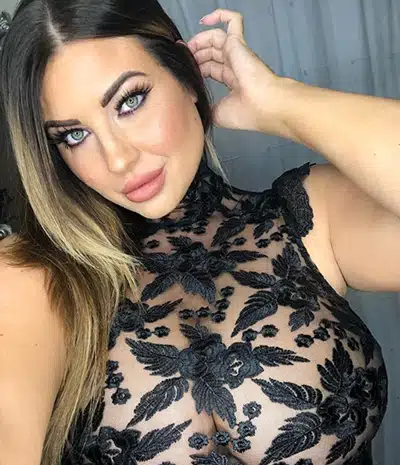 Andrea has long been known as the life of the party. She's the kind of girl that walks right in and stirs the drink. She likes to have fun and she wants to make sure everyone else is having fun as well. She's also a Carolina girl, which means she brings some of that southern charm to the city of sin. If there's anything more amazing than a southern bell in the desert, you'll be hard-pressed to find it.
About Andrea
Height: 5'5″
Weight: 137 lbs
Measurements: 35DDD-27-38
Background: Caucasian
Hobbies: Nature hikes, cursing like a sailor, trivia night
Favorite Movie / TV Show: The Office
"Let's have a few cocktails and just see where the night takes us. Treat me right and we'll always have fun."
Bunches of Fun
There's something about natural curvy girls no amount of silicone can replicate. Sure, tight and fake is a world of fun, but when you have a seductively sexy girl with an all-natural bust, that something totally different. It's next-level stuff, and Andrea is a next-level kind of girl. When you want big busty escorts, Andrea is going to be the girl you swoon over.
Lets Shoot the Shit!
Andrea isn't shy about what comes out of her mouth. She can be the perfect debutante if that's what you're interested in, and yet she can let loose as good as anyone else. But that's also part of her charm. There's something truly refreshing about a girl who is adorable and sexy, all while just being herself.