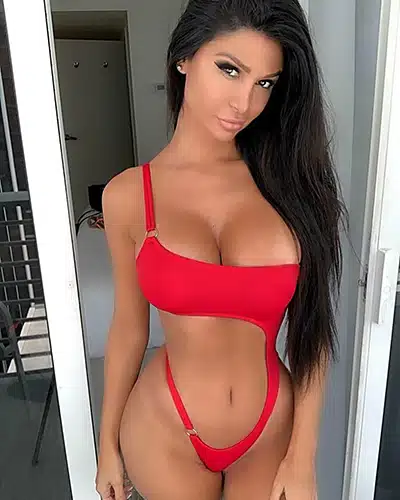 Bebe grew up just outside of New York and has carried that NYC drive with her. Whatever she does she does well, and that includes treating her dates. You might not know it by looking at her, but she's an avid sports fan. Of course, you wouldn't be the first person to forget about listening to just how incredible her curves are. As one of the elite busty escorts in Vegas, she's perfected the art of treating others the way she wants to be treated.
About Bebe
Height: 5'7″
Weight: 121 lbs
Measurements: 35DDD-23-36
Background: Caucasian
Hobbies: Yankees, Yankees, Yankees, working out, and hiking whenever possible
"I like a guy who can look me in the eyes and hold great eye contact. It's one of the best ways to connect."
Favorite Movie / TV Show: The Sopranos
Jaw Dropping Beauty
Just one look at Bebe and you know she's something different. She has the kind of body that will make you lose all control over your jaw as it drops to the floor. It's okay if you slur through your first few sentences. She's used to it.
Let's Get To It
Bebe absolutely loves going all in on whatever she's doing. She's not the kind of girl that will just sit back and let you take control, or will wander in the back because she doesn't like what she's doing. If she's going to do something she's going to be 100% all in.
Want to go for a hike? She absolutely loves it. Of course, she loves just about everything that keeps her active. She's also a big-time sports fan, and when watching a game she's not going to just passively watch it. And when she's on a date with you? She's going to be completely all in with you and your plans.