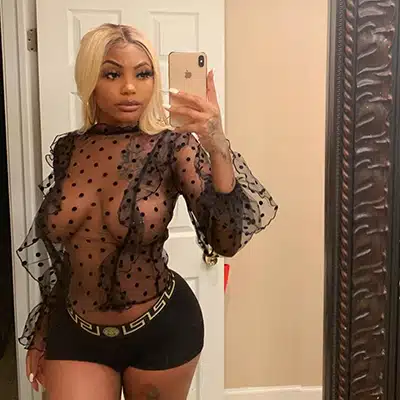 Nikki is a Philly girl to the core. And while you can't take the Philly out of her heart, she's very much happy here in Vegas. Vegas is happy to have her just as much. She brings style and fun to the city of sin. And you wouldn't be alone if you had sinful thoughts looking at her. With her big juicy booty and her exceptional bust, she's one of the big busty escorts that will set your heart on fire. The only way to quench that fire is with a date.
About Nikki
Height: 5'4″
Weight: 136 lbs
Measurements: 35DD-27-39
Hobbies: Watching the Eagles, sitting poolside, eating sushi
"I like a guy that knows what he wants. Don't pussyfoot around what you're looking for in life, otherwise life will pussyfoot around you. So show me your cards and I'll show you mine."
Favorite Movie / TV Show: Family Guy
Baby Got Back
There are other escorts on the street that have solid busts. There are others that have solid booties. Even a few have both. But few have the kind of combination that Nikki is bringing to the table. It's what helps her stand out.
And yet, when you spend a date with her, you'll fall for her on so many other levels. You'll laugh at her jokes and groove with her personality. You'll make eye contact and forget your own name. Don't worry though, she'll help you remember it.
A Date With Nikki
Nikki is a special woman, and not one you're going to forget any time soon. But the only real way you can get to know her and to discover what she has to offer is to set up a date. Thankfully, that's one of the easiest decisions you can make. All you need to do is call and book the date right now.