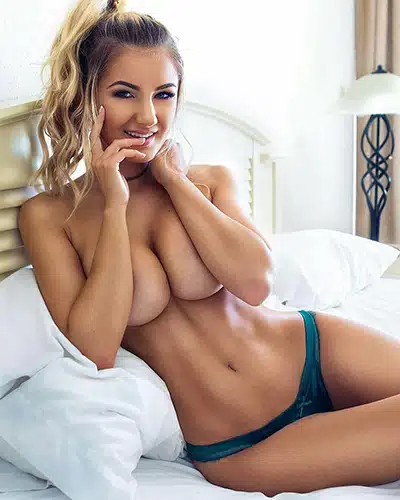 Sasha is a gym rat. She love working it. She's always looking for the next thing to add to her workout routine. She's not into all the over-hyped Instagram fitness models, because they're all fluff. She hits it hard and the results show. But don't worry, between squat sets and firing off crunches, Sasha will have plenty of time to spend with you. It's part of the reason why she puts so much work into her fitness routine anyway.
About Sasha:
Height: 5'7″
Weight: 128 lbs
Measurements: 32D-23-32
Background: Caucasian
Hobbies: Gym, gym, and more gym. Kicking butt in Mario Kart
"I like a guy who isn't emasculated when I'm next to him in the gym. So many guys try to show off or show up. It's kind of a turn off. Just be you and do you. That makes me happy. The best way to impress me and to win me over is be authentic."
Favorite Movie / TV Show: Home Alone
Perky and Shredded
It takes serious dedication to reach the kind of physical fitness Sasha has obtained. To do it, she has to be laser focused. But she's not only laser focused on her diet and workout. Whatever she does she gives 100%. And she's found that when she gives 100%, it makes her better, which means the next day's 100% can squeeze out even more. When she's on a date with you, she's all in. And then, if you decide to go on a second date, it's that much better.
For You
Sasha is the culmination of hard work, and now, she's all for you. You get to enjoy all of that hard work and dedication. And to do it, all you need to do is reserve a date with her. Let her do the hard work as one of the elite busty escorts in Vegas.