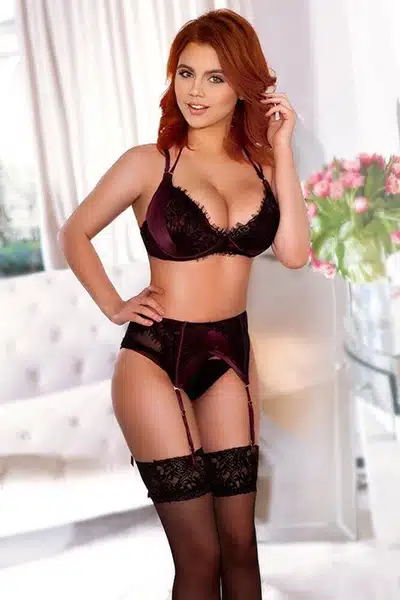 Carmen has been a Vegas local for most of her life. And yet even with all the talent coming in from outside the city, she remains one of the most booked girls. Her natural beauty gives her a girl-next-door quality that's simply stunning, and yet once you pull your jaw from the floor you'll find shes an amazing person to talk to.
About Carmen
Height: 5'2
Weight: 124 lbs
Measurements: 34DD-24-35
Background: Caucasian
Hobbies: Cheering for the Las Vegas Knights, spending time in the pool, and hitting up the gym when not working
"I love a guy who can put a smile on my face. There's nothing better than that."
Favorite Movies / TV Show: Step Brothers
The Red Head Of Your Dreams
There are plenty of busty Vegas escorts out there, but few can check off the seductive red head box. Carmen is one of those few girls who not only rocks the red hair, but won't instantly burn when out in the sun with you.
She's the kind of girl you want to spend your day with, and when it's done, you'll hope she's still available, because you'll want to spend even more time with her.
Kicking It, Having Fun
Carmen is someone who likes to stay active, but she also loves to just lounge it and binge TV. While she'll be the arm candy stunner wherever you go, she's also down for a date back in the hotel room, with a jumbo bowl of popcorn and any number of TV shows or movies on. She's all about snuggling and catching up on not only her favorite entertainment, but yours.
Carmen doesn't only want to watch her favorites. She wants to get to know you and watch yours. After all, one of the best ways to get to know someone is to watch their favorite movies and TV shows.